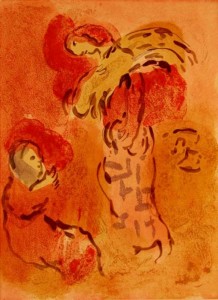 Do you know the woman in the Bible depicted this painting by Marc Chagall?
Women's History Month is being featured and discussed in the Christian Science Sunday School at Seventeenth Church of Christ, Scientist – Chicago this month.  In the Sunday School room you'll find a display and quiz about Women in the Bible along with an opportunity to name the  women in history who have inspired you.  Everyone is invited to drop by and test your knowledge!
This month, you'll also find an audio online chat on time4thinkers.com about a pioneering woman, Mary Baker Eddy, who founded this church.  This chat isn't Mary Baker Eddy at arm's length—it's a personal, intimate look at the Mary who was more than just a media mogul, or even a radical spiritual pioneer. You'll meet the woman whose struggles and triumphs have inspired, guided, and in many ways changed the course of the speakers' lives. Tune in anytime to listen to examples that will encourage you on your own path.