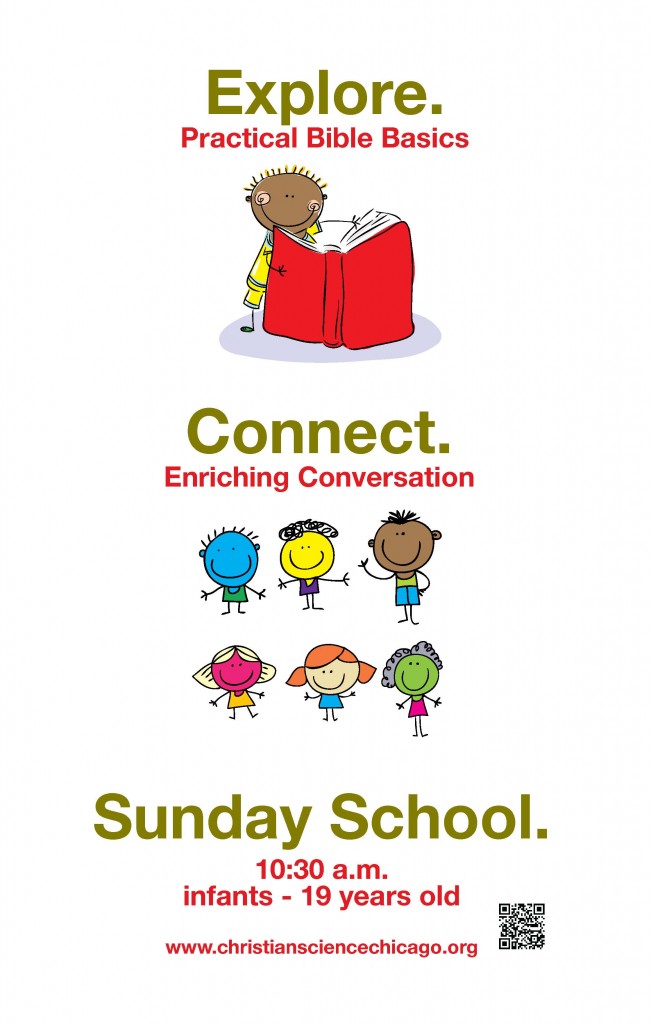 Sunday School is truly a special time.  It is a unique opportunity to think together about life from a spiritual perspective, to learn practical Bible basics that contribute to shaping one's moral compass, and to consider how the ideas of Christian Science can bring healing to one's own life and to society at-large.  It's also unique in that it is reserved for infants through teenagers and meets throughout the year.
The Sunday School here at Seventeenth Church of Christ, Scientist is a vibrant, mighty little group.  We have established classes for infants & toddlers, 1st – 3rd graders, 4th – 6th graders, and a high school/college class.  Classes meet every week throughout the year and our teachers are devoted to being there for the students.
We'd love to have more folks know about this resource.  And, in response to one of our college student recommendations we've made some posters & flyers to invite students to join us.  You'll find these posted around the neighborhood and you are invited to download & share them with friends and acquaintances in your neighborhood.
If you over 20 years old, we hope you'll still feel connected to the good going on in this Sunday School.  We post our projects on this website so that everyone can participate and be a part of the exploration and connection taking place.  And, we welcome everyone before & after Sunday School to look around our meeting room, read our bulletin boards and post your own ideas.
All the flyer images on this post can be downloaded to your computer and printed or attached to emails.  Simply click on an image and drag it to your desktop.