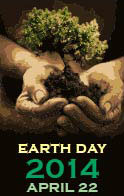 Tuesday, April 22, is Earth Day.
How are you supporting this day?
An exhibit in the Reading Room this month invites viewers to think about environmental issues from a prayerful perspective. Issues of The Christian Science Monitor magazine are displayed, the chapter in Science and Health with Key to the Scriptures  – "Creation" is highlighted, and multiple copies of three inspirational articles are available to take away and ponder.
Readers of this post are invited to read the three inspirational articles as part of your Earth Day:
Our mid-week prayer meeting this Wednesday at 6pm will focus on Earth Day. The readings will be addressing the question, "What spiritual lessons do we learn from nature?"
We hope you'll make use of these Earth Day resources and join us at Wednesday's meeting to share your inspiration.