On the street level at 55 East Wacker Drive, the Reading Room is open Mondays, Tuesdays, Thursdays and Fridays from 10:00 a.m. to 4:00 p.m., and 3:00 – 6:00 p.m. on Wednesdays.  Both bookstore and drop-in center for the exploration of spiritual healing, prayer, and spirituality, visitors are welcome to make purchases, ask questions about Christian Science as well as read and study on site.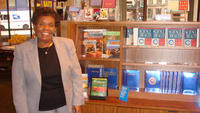 Bibles, scripture study aids, the writings of Mary Baker Eddy – including her bestselling book Science and Health with Key to the Scriptures, children's publications, inspirational music, and Christian Science magazines are available for purchase and onsite study.
New to the Reading Room is an internet research center complete with two computer stations and a large viewing screen.  Here visitors are welcome to search the database of the complete writings of Mary Baker Eddy and Bible, watch video lectures, and explore the entire online library of The Christian Science Publishing Society publications.
Parking is available for a discounted rate at Park 1 garage, 57 East Wacker Place.  Please ask the Reading Room attendant to validate your parking ticket.  Free parking is also available in our lot on Lower Wacker Drive.  See Contact Page for directions.
Can't wait for the Reading Room to open?  Here are three resources available 24/7:

christianscience.com
Read, watch, and listen to articles, editorials, and firsthand accounts of healing.
.
847-696-LOVE (5683)
Listen to a weekly Bible Lesson and Christian Science Sentinel audio program.
.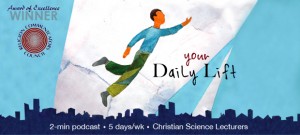 Your Daily Lift – a 2-minute podcast – 5 days/wk