Christian Science Lectures
Find a public talk on Christian Science near you.
Past Events
Find Steady Ground
a spiritual staycation here in the heart of downtown Chicago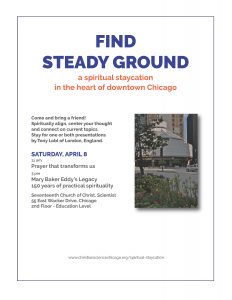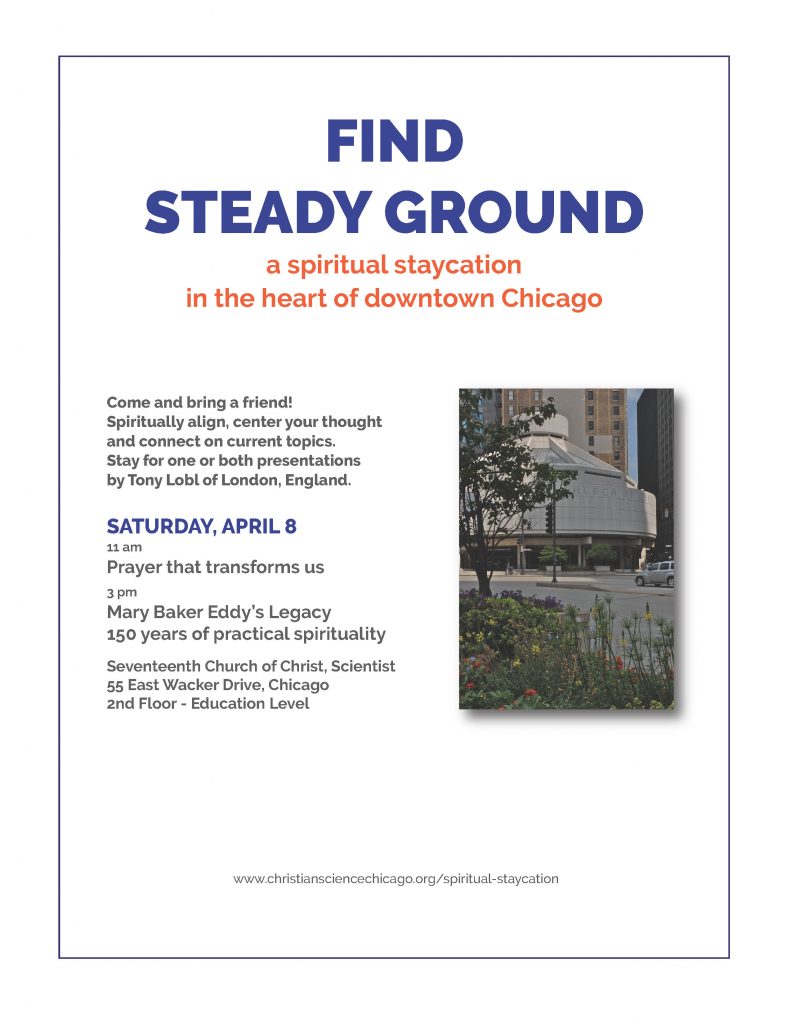 In April 2017 we sponsored two talks about prayer and the legacy of Mary Baker Eddy. Both talks were given by Tony Lobl, a member of The Christian Science Board of Lectureship. The room was filled in the morning and many made a day of it attending both the morning and afternoon talks. Both events were live streamed on Facebook.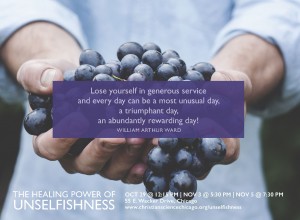 The Healing Power of Unselfishness
In October & November 2015 we sponsored three talks about the practice of Unselfishness.  Presented by Lois Carlson, a member of The Christian Science Board of Lectureship, these were lively and well attended events.
CLICK HERE to watch the video, "Unselfishness – Natural and Familiar"
Beyond Time Management
Learn how time is not a factor
Rethink the limits of time!
In October and November 2014 we sponsored three seminars about Time — not about trying to squeeze more into a 24-hour day, but learning to live in the now— free of mortal time limitations altogether. Presented by Dave Hohle, a member of The Christian Science Board of Lectureship, all attendees received and worked with a copy of Science and Health with Key to the Scriptures during the workshop.
God's love answers all your needs

In 2013 our church joined with other Churches of Christ, Scientist in the Chicago area and sponsored a couple events for inmates in two prison facilities. Ricardo Saldivar, a local speaker from The Christian Science Board of Lectureship, spoke. The ideas he shared resonated with both audiences, so much so that more than 75 people obtained their first copy of Science and Health with Key to the Scriptures, the seminal text by author Mary Baker Eddy about the practical application of spirituality.
Sharing Sacred Spaces
October 2011 – June 2012
organized by the Council for a Parliament of the World's Religions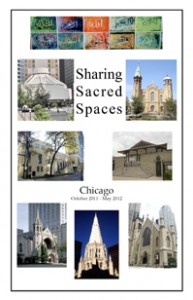 This past year Seventeenth Church of Christ, Scientist participated with seven other religious and spiritual communities in a program designed to engage religious diversity and widen participation in interreligious activity across the Chicago metropolitan area.  Each month one of the eight places of worship opened their doors to extend hospitality to visitors from the general public.  Through these visits to places where people pray, worship, engage in religious practices and celebrate life's events, visitors were invited to listen, learn and connect with one another. For complete information on the year long program, download the Sharing Sacred Spaces Booklet.
Our church hosted its open house on Sunday, March 18, 2012.  CLICK HERE to view a slideshow of the event.
All eight open houses have taken place as has the wrap up Sacred Sacred Solidarity Event on Chicago's Federal Plaza.  CLICK HERE to view a video of the final gathering.
April 17, 2011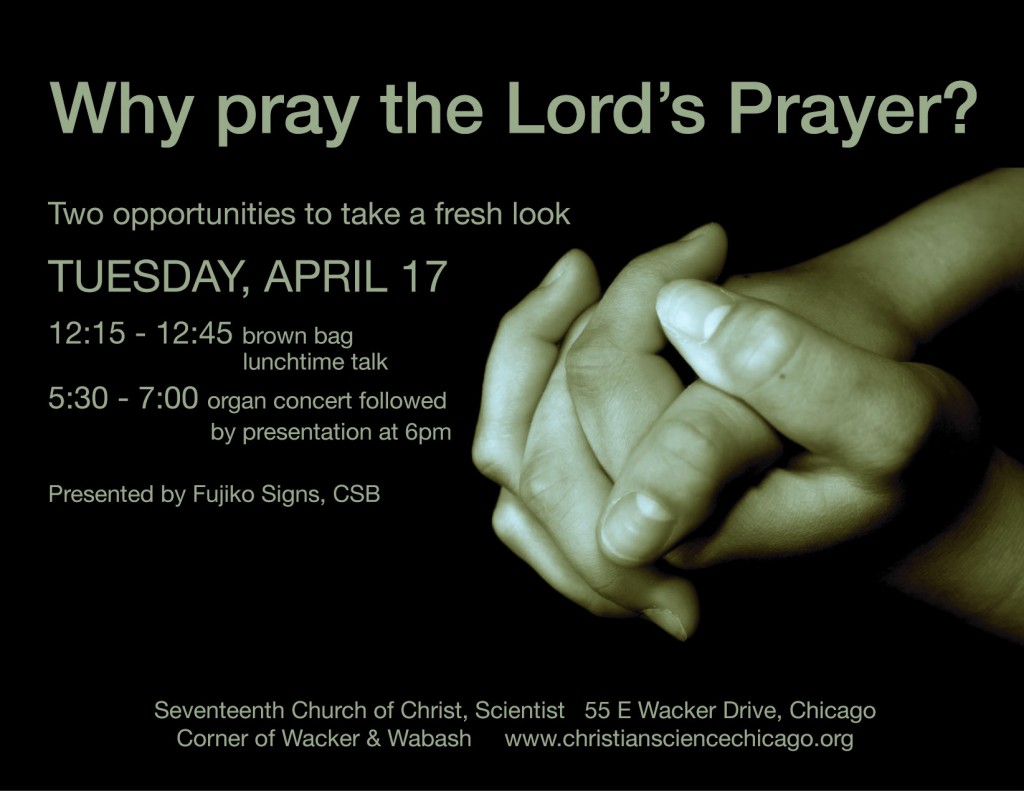 Spring 2010
Our community joined with Second Church of Christ, Scientist in Chicago in sponsoring a citywide anti-violence prayer meeting at Chicago Temple.  The event was deeply moving and stirred attendees to continue to pray and support our fellow Chicagoans who are actively working to nullify violence in our city and beyond.  One report after the prayer meeting is as follows: