The community at Seventeenth Church of Christ, Scientist in Chicago first gathered in 1924.  Meeting in various locations during four decades, including Orchestra Hall, the congregation built its first permanent home in 1968 at our current location on the corner of Wabash and Wacker in downtown Chicago.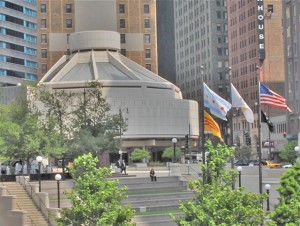 Perhaps architect Harry Weese's most recognized building in downtown Chicago, Seventeenth Church's iconic structure was designed to maximize a six-sided site at the intersection of three major streets.  The structure is comprised of seven levels, with the main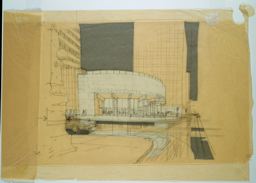 auditorium situated on levels four and five.  The primary entrances to the church are at grade level, which actually is level three of the structure.
The Church's auditorium is styled after the layout of a Greek amphitheater, capturing the democratic spirit of the congregation.  Skylights and several levels of clerestory windows fill the auditorium with natural light, providing a peaceful oasis for prayer and worship amid the hubbub of the city.  The travertine marble walls and wood podium in the auditorium are absent of traditional religious symbols, focusing
attention on two sacred texts engraved into the travertine wing walls on each side of the podium.
The Sunday School and nursery rooms are located on the second level (below the lobby).  These rooms are also designed to take advantage of natural light; they look out onto a sunken garden that is seasonally planted and maintained by church members.  The first level of the structure, accessible from Lower Wacker Drive, houses mechanical space and limited parking.  Church offices and other smaller meeting rooms are located around the elevators on levels four through seven.  The roof of the auditorium can be accessed from the seventh floor, offering spectacular views of the City looking west down the Chicago River!