Here at 55 E. Wacker Drive we worship two times a week, maintain a Christian Science Reading Room that is open every weekday, meet as a congregation for fellowship & plan our activities, and host community-related meetings.  We are a diverse group comprised of men and women who live downtown as well as those who commute from the suburbs.
Framework of Our Faith Tradition
If you were to worship here on Sunday morning and Wednesday evenings you would find many elements that are similar in other Christian churches – hymns, prayers, readings from the Bible, and a warm sense of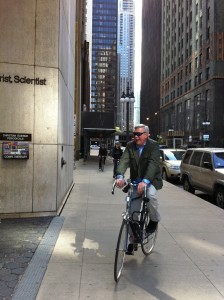 fellowship.  One unique feature is the absence of a preacher conducting the services.  Instead, two lay readers conduct the Sunday worship – reading a sermon comprised of passages from the Bible and a book by the Church's founder, Mary Baker Eddy, Science and Health with Key to the Scriptures.  All the Churches of Christ, Scientist throughout the world read this same Sunday sermon.
As a lay church, the congregation is governed democratically.  We elect readers to conduct the Sunday and Wednesday worship.  A volunteer executive board performs church business as directed by the membership.  Everyone is welcome to join our church that has been a student of the Bible and the writings of Mary Baker Eddy for six months and is endeavoring to practice the faith's core beliefs.
Community Service
In addition to our Sunday Worship, Sunday School and Wednesday Testimony Meeting, our community service is focused on spiritual education. We maintain a Christian Science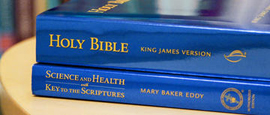 Reading Room open to the public 30 hours/week that is staffed by volunteers.  In the Reading Room, there are a variety of scriptural and inspirational resources available for sale and onsite use.  Supporting this educational resource are complementary activities and events. We also join with other Chicago area Christian Science churches in maintaining a telephone line (630-929-5635) that broadcasts 24/7 inspirational programs.
Beyond the Reading Room and event activities, members of our congregation are engaged in conducting weekly religious services at Cook County Jail and at Chicago Reed Mental Health Center.  Members also devote time to pray with and for others, including world & local community needs, as well as volunteering in professional & civic organizations.
As part of a denomination that spans around the globe, our world view is informed by the Pulitzer Prize winning international newspaper and news website, The Christian Science Monitor.  This news organization is devoted not only to exposing the ills of mankind, but also to highlighting the solutions being implemented. We see the improvement of civilization as a primary way that Christ is working "To injure no man, but to bless all mankind" as the newspaper's motto commits us.  Complimentary copies of the Monitor, together with other inspirational magazines, are distributed around the city in various locations where people seeking answers to their problems might find them.
Comments From Community Members
"Having attended Seventeenth Church since I was 15 years old in the 1940s, I have a great deal of affection for this church and its place in the Chicago community.  Whether it was attending services in Chicago's Symphony Hall or since 1968 in the architectural masterpiece by Harry Weese, the continuity of spiritual uplift remains and grows.  This sacred space is much more than a building to me, it is a structure of Truth and Love (God's Kingdom at hand) that offers healing and harmonious life." — Paul Condylis, Actor, Writer, Director
"Entering into Seventeenth Church of Christ, Scientist promises a time for quiet reflection. It also holds out the chance of meeting others who start with God in meeting the challenges of the day.  In the heart of downtown, where things that speak to the spirit are not always readily visible, even passing by a church can restore my perspective and remind me of what is important." — Karen Butler, Attorney
"The spiritual growth coming as a result of church membership has been of great help to me as a business owner.  Church membership is a way of life for me that I use daily and in every phase of my experience.  As a longtime Reading Room librarian, the peripheral view from the lobby of the church provides a magnificent window to the needs of the community." — Janet Barnes, Business owner
"I have enjoyed membership in Seventeenth Church of Christ, Scientist for 45 years. It serves the local residents and tourists alike with an opportunity to experience a spiritual uplift as they go about their day. I had the pleasure of serving as first reader in this church. I've also served on the board and am currently on the Reading Room committee." — Don Ferris, Radio & Television Broadcaster
"I had a strong desire to live downtown Chicago after raising my family as a single mom in the suburbs. Church has always been an essential support to me.  Finding Seventeenth Church to be a vital congregation with some very creative thinkers encouraged me to move forward with my move ten years ago.  This is a spiritually committed group, earnest in their desire to understand Jesus' core teaching that the Kingdom of heaven is at hand, within and around us. This means to me that we can take the good of life seriously and see it to be the power of God working to bless us.  This is a congregation of new seekers and veterans and we learn so much from each other, especially at the Wednesday testimony meetings. This is a place you can share your newest inspiration and lean on the insights of others when you're struggling."  — Lois Carlson, Christian Science Practitioner and Teacher