Sunday School is our primary youth-focused activity.  But young people are included in all our church activities.
Sunday School
Sunday School is about discovering how spirituality is relevant in our lives – how it fits into every day and shows up in everything we love to do.  It's an environment where one can feel totally supported.  And, it's an opportunity to talk with other kids under the age of 20 and look for meaningful answers to issues that come up in our lives.
One focus of Sunday School is deepening our understanding of the spiritually inspired Word of the Bible and apply Biblical truths to everyday experience.  Three scriptural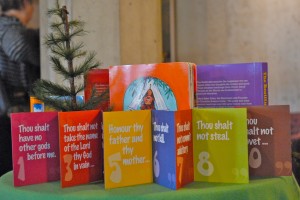 passages, in particular, are studied and reviewed periodically: the Ten Commandments, The Lord's Prayer, and The Sermon on the Mount.  These Bible 'classics' have proved for centuries to be a moral compass and "true north" that are invaluable for navigating through life's journey.
Our Sunday School is open to everyone from the age of newborn up to 20.  Nursery classes include naps, play time, singing, and introductions to Bible characters & stories.  Older classes tend to be organized around like-grades and interests, and we all come together for opening and closing hymns.  Three recent projects we've focused on as a whole learning community include:
One resource we use in Sunday School is the Christian Science Bible Lesson.  It is a weekly lesson made up from passages taken from the Bible and Science and Health with Key to the Scriptures by Mary Baker Eddy.  "My Bible Lesson" brings the lesson into focus for youth – and youthful thinkers – in a hip layout with word definitions, cartoons, thought-provoking questions, and encouraging testimonies that all support the message of each Bible Lesson.  Check "My Bible Lesson" out and subscribe to the pdf downloads.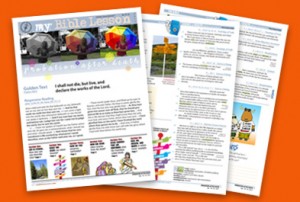 .
Wednesday Testimony Meeting
Everyone, of any age, is welcome at our Wednesday Testimony Meetings that begin at 6:00 p.m.  Share a testimony, or bring a snack and hang out in a neighboring room and do your homework while the rest of your family is in the meeting.  Everyone is welcome.  And, if parents need a break from their toddlers during the meeting we can provide child care too.
.
Time4Thinkers
 A popular online, diverse community with a shared vision, "to make some spiritual noise in a world that really needs it," can be found at time4thinkers.com.  Here you'll find media & blogs & forums on topics you're thinking and praying about; info about Christian Science on college & university campuses, summits and other events; and a community where you can get involved.