The Christian Science Monitor welcomed a new Editor in May. In his first interview as Editor, Mark Sappenfield said this about the role of journalism:
"Done correctly, journalism can be an agent of healing and hope because it is not about arguing over facts and events but getting to the basic issues that matter so greatly to us all. It is about taking account of lasting values and spiritual qualities that animate everyone and make for human progress."
Everyone! All mankind shares lasting values and spiritual spiritual qualities.
This week at our midweek prayer meeting, beginning tonight at 6pm, we will explore the spiritual quality of goodness, or as the Bible describes it: righteousness.
Note: Look for future explorations of these spiritual qualities shared by all mankind in the weeks to come.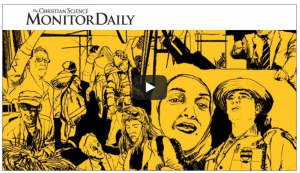 Click above to learn about
The Monitor's new Daily Briefing.