8 Chicago Religious & Spiritual Communities to Pledge Interfaith Cooperation
Join us for the culmination of the "Sharing Sacred Spaces" project!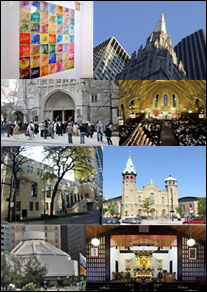 Sunday, June 10, 2012
2:00 – 4:00 pm
Federal Plaza
(Southwest corner of Adams & Dearborn)
Chicago
The eight religious and spiritual communities that have been opening their doors to each other and the public over the past eight months will join together publicly to sign a pledge of solidarity, committing to work together to reduce social tension and build bridges of trust and hope in the city of Chicago.
In the past eight months, people from different Chicago religious and spiritual communities have forged bonds of friendship and trust through the "Sacred Spaces" series of events. The pledge they sign will symbolize their ongoing effort to honor and respect their different traditions, as well as to spread a spirit of solidarity to the surrounding community.
The celebration will feature the eight participating religious and spiritual communities, representatives from the Council for a Parliament of the World's Religions and the Mayor's office, and a performance by the Duende Dance Theater.
"Religious and spiritual communities standing with each other in the face of religiously-motivated defamation, hatred and violence is the meaning of solidarity," says Dirk Ficca, Executive Director of CPWR.  "Grounding a pledge of solidarity from within their religious and spiritual traditions makes it sacred. That religious and spiritual communities in downtown Chicago have made such a pledge brings a sacred dimension to the civil space they share."
The event is free and open to the public.  Please join us to celebrate with these communities and to express your own commitment for a better city and a better world.