Old St. Patrick's Roman Catholic Church will open its doors to the general public as well as to visitors from other religious and spiritual communities on Sunday, April 22, 2012 between 2-4pm.

This event is the seventh installment of the Sharing Sacred Spaces project, in which eight different communities of faith and practice in Chicago are inviting others in for an opportunity to observe, experience and learn what makes their space sacred.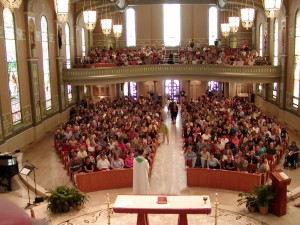 Old St. Patrick's Church has stood at the western gateway of Chicago's Loop for more than 150 years. Built seven generations ago, this old city Church, a treasure born of the immigrant dream, has a history that reflects the cycles of the city's industrial growth and economic depression. Old St. Patrick's is one of the few buildings to survive the Great Chicago Fire of 1871 which wiped out so many and so much in this city. Old St. Patrick's is listed on the National Register of Historic Places.
Founded in 1846 as the first English-speaking parish in the city, Old St. Pat's current church building was designed in a Romanesque style by two of Chicago's earliest practicing architects Augustus Bauer and Asher Carter. The stunningly beautiful sanctuary with world renown stained glass, Celtic designs painted on nearly every interior wall and gently curving pews invites visitors to a visual feast as they enter this sacred space
Today, Old St. Patrick's is home to a membership of more than 3,000 households Come and learn about the history, traditions and spiritual practices of the Roman Catholic church, the vision of this congregation and its commitment to the city of Chicago.
Come and enjoy this congregation's hospitality and start up a conversation. Bring questions, engage with others.  The doors will be open. Come on in!
Old St. Patrick's Roman Catholic Church
700 W. Adams
Chicago, IL 60661
312-648-1021
www.oldstpats.org