June 10 was the first anniversary of the signing of a powerful solidarity pledge on the Federal Plaza in Chicago by the eight Sharing Sacred Spaces: Downtown Chicago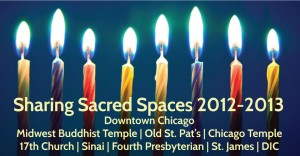 religious communities who participated in a pilot program of interreligious community building. The project was created in partnership between the Council for a Parliament of the World's Religions and Suzanne Morgan of Sacred Space International. The weekend also marked the completion of the second year of the work of these eight congregations building solidarity for mutual support and neighborhood service.
The website for the Parliament recently posted a summary article of the group's activities these past two years.  CLICK HERE TO HAVE A LOOK!
You'll be glad to know to the Sacred Spaces planning team is meeting over the summer to plan a third year of activities.