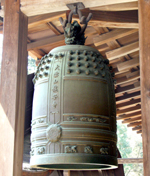 In 2010, the UN General assembly designated the first week of February as World Interfaith Harmony Week.  In line with this proclamation, please join us February 1 to celebrate the New Year in a special ceremony designed to release the hardships and limitations of the past and to plant the seeds of hope and peace.
Hosted by Midwest Buddhist Temple
435 W Menomonee Street, Chicago
Friday, February 1, 2013
6:00 – 8:30 p.m.
Program includes:
Year End Introduction by Rev. Ron Miyamura
Buddhist Ringing of the Bell
Sharing New Year Practices from Diverse Traditions
*Presenters followed by participants
New Year Flower Release
Toshi Koshi Soba Noodles and refreshments
This event has been designed by members of the Sacred Spaces 2013 Downtown Chicago group and is open to the public.