Chicago Sinai Congregation, 15 West Delaware Place
Friday, November 9, 2012 – 7:30 p.m.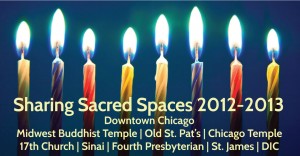 Chicago Sinai will be presenting a program on Friday, Nov. 9 at 7:30pm, featuring an Oscar-nominated, Sundance-selected documentary, "The Barber of Birmingham," about the early days of the Civil Rights Movement.
It's a 25 min. film focusing on an 85-yr.-old barber – one of the unnamed "Foot Soldiers" of the Movement – as he shares stories about acts of courage by everyday men and women who responded to the unexpected, hopeful, and often dangerous events of the times.
After the film, we'll meet, hear from and ask questions of the director, Robin Fryday, and some of the Foot Soldiers who lived through and took part in these life-changing events as children and teen-agers.
This program is an outgrowth of a service trip to Birmingham in April by members of Sinai aiming to help with tornado damage from 2011 storms.  Planners of the trip were introduced to the film's director.  We learned about the difficult gestation of the film and Robin's commitment to getting this unique view of the period – one that's not in the history books – out to the public and especially to schools where it can be a powerful teaching tool.
Through Robin we met Shirley Gavin Floyd, the Executive Director of the Foot Soldier organization, which offers recognition and a sense of community for many of the courageous but unnamed individuals who risked their jobs, their safety, and their lives to end segregation and gain the right to vote.   Shirley introduced our group to a number of foot soldiers who electrified us with their personal recollections of experiences in Birmingham during the 60's when they were children and teen-agers.
This program continues Sinai's long history of activism for civil rights, beginning with a number of our original members in 1861 who were participants in the Underground Railroad.  Sinai's most celebrated Rabbi, Dr. Emil G. Hirsch, was credited by Julius Rosenwald – a Sinai member and founder of Sears, Roebuck & Co. – as the moral force behind his decision to found over 500 schools for Black children in the segregated South during the early 20th century.
Even those of us who lived through the '60's may have forgotten many of the details, the moments of drama, and the names of the villains and heroes of this momentous period and will be moved by this retelling.  And for the generations that have only studied these events in school, it can be an unmatched opportunity to learn directly from the past and be inspired.
After the program there will be a brief opportunity for participants in the Sharing Sacred Spaces activity to gather.
If you're interested in attending or have any questions, please contact Peter Rubnitz at peter@urbanoasis.biz.